Modernization process outlined for Father Lacombe Catholic School
Posted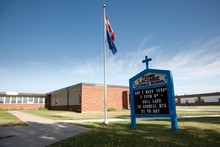 Steps continue to be taken as Father Lacombe Catholic School looks forward to a school modernization.
The Government of Alberta announced a school modernization this past March for the Kindergarten to Grade 9 school in Lacombe, which was originally built in 1958. Now a timeline for the process has been shared, and was reviewed at St. Thomas Aquinas Roman Catholic School Division's Board of Trustees September regular meeting, Sept. 19.
"It's tremendous to see this project outlined, and know that things are in motion to make this a reality," said Michelle Lamer, STAR Catholic Board Chair.
The timeline calls for architect selection to be completed in October, and design and drawings to commence in November. The designs and drawings are expected to take nine months to complete, before the process can move on to the tender stage in August 2019. Mobilization and construction is set to begin in January 2020, and is estimated to take 32 months.
The modernization will be completed in stages, and STAR Catholic is committed to minimizing disruptions during construction.
STAR Catholic and its Lacombe parent community has been working closely with Alberta Education and Alberta Infrastructure on the need for the modernization. The need was determined through a value scoping process with Alberta Infrastructure, Alberta Education, school and Division officials and the community.
— Supplied by STAR Catholic School Division