Win a dinner for two for Catholic Education Week!
Posted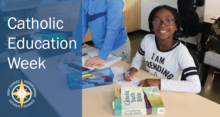 Catholic Education Week is approaching! 
Every year, Catholic Education Week is recognized across Alberta in celebration of our Catholic schools and the gift of publicly-funded Catholic education. 
This year, Catholic Education week takes place May 15-19 and, parents, we want to hear from you! 
Tell us what you love about your child's Catholic school and you will be entered to win dinner for two at a locally owned restaurant in your community.
Submit your entries to communications@starcatholic.ab.ca or post them on social media using #IBelieveInCatholicEd — don't forget to tag STAR Catholic so we can see it! Please be sure to include your school name.
Six winners will be drawn from each municipality STAR Catholic Schools serves. The winners will receive a $75 gift card to a local restaurant. 
*Please be aware that any submissions received may be used in future Division promotions and campaigns and/or posted on our social media and website.*