Thank a Teacher on World Teachers' Day!
Posted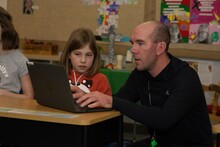 "Give instruction to the wise, and they will become wiser still; teach the righteous and they will gain in learning." Proverbs 9:9
Held every year since 1994, World Teachers' Day was established by the United Nations Educational, Scientific and Cultural Organization (UNESCO) to highlight the many contributions made by teachers, as well as raise awareness of the challenges educators face.
The annual date of October 5 was chosen to commemorate the 1966 intergovernmental adoption of the UNESCO recommendation concerning the status of teachers. This gave teachers around the world a standard by which to define their responsibilities and protect their rights. It was a defining moment as it marked a unanimous recognition of the importance of having qualified, confident, and competent teachers.
The theme of World Teachers' Day 2019 is "Young Teachers: The future of the Profession." Today we celebrate our teachers — and teachers all over the world — while considering some of the challenges that must be addressed in order to continue attracting bright young professionals to the field of education.