It's National Indigenous Peoples Day!
Posted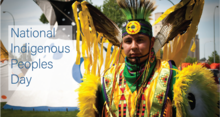 Today, National Indigenous Peoples Day, is a celebration of the rich histories, traditions, and languages of the First Nations, Inuit, and Métis Indigenous Peoples. It is also an opportunity to recognize and give thanks for their many contributions to the diverse cultural fabrics that make up Alberta and Canada!
STAR Catholic works to educate and engage students and staff to help close knowledge gaps and provide historical and cultural perspective on Indigenous issues — both past and present. Efforts such as collaboration with Indigenous groups and other school boards, exercises and workshops, participation in traditional activities, and specialized lesson plans and materials help us raise awareness and share meaningful lessons within our school communities.
Through activities and initiatives including the KAIROS Blanket Exercise, hoop dancing workshops, sharing traditional stories, soapstone carving, Orange Shirt Day, lessons on Truth and Reconciliation, tipi construction, students as teachers, Indigenous Education Kits, and more, we aim to keep our students — the future generations — are as informed and engaged as possible. 
Browse the gallery below to see photos of some activities and initiatives. Click on a photo to enlarge it. 
Indigenous Education