Apply for Minister of Education's Parent Advisory Council
Posted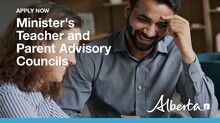 Parents and Guardians are invited to apply for the Minister of Education's Parent Advisory Council.
The Council will bring together 40 parents from diverse backgrounds to engage in discussions with the Minister of Education about issues, concerns, and opportunities affecting schools and education in Alberta. 
Applications are open until August 31. Learn more and apply on the Government of Alberta's website.