An Easter Message from Your Board of Trustees
Posted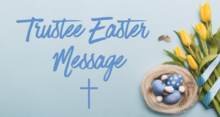 "He is not here; for he has risen." Matthew 28:6
We have much to be grateful for this time of year as we welcome new beginnings in the form of warmer weather and the renewal of spring, and prepare to celebrate the resurrection of Jesus Christ.
During this Lenten season, we have reflected on and given thanks for the sacrifice of Christ, who was sent by God to die for our sins so that we may be blessed with the gift of eternal life.
Our STAR Catholic family — staff, students, and administration alike — have prepared to celebrate Christ's glorious resurrection with open hearts, gratitude, and a sense of wonder.
During and after this holy season, we seek Christ in our daily lives through our actions, words, thoughts, and prayers.
We see his light every day in the love of our families, in our relationships with parish communities, and in our amazing schools through the passion of our staff and the bright and eager faces of our students.
As you celebrate and give thanks during this blessed Easter season, we pray the hearts of you and your loved ones are filled with peace and joy.
Yours in Christ,
The Trustees of STAR Catholic