CTK Takes Home the Trophy at 2019 STAR Science Olympics
Posted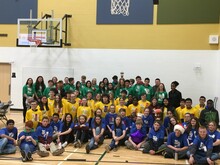 The 2019 STAR Science Olympics took place Monday, April 1 at Mother d'Youville School. Grades 7 to 9 students from across the division teamed up in groups of four to compete for the first place trophy. This year's champions were Christ the King School, who won the trophy away from last year's winners, Father Leduc. 
Students tackled science, technology, engineering, and mechanics (STEM) activities that challenged their minds and put their analytical skills to the test. Teams competed in the following challenges:
Spaghetti Tower: using only 25 sticks of spaghetti and 1 metre of tape, students attempted to build the tallest free-standing tower that could hold a marshmallow at the top
Catapult: with the materials provided — including pop cans, plastic spoons, and tape — students created a catapult and attempted to launch a breath mint the furthest distance
Bird's Nest: students assembled a structure resembling a bird's nest with the goal of holding the greatest number of eggs inside
"The second annual STAR Science Olympics were a great success," says Director of Student Services Michelle Symes. "The students were extremely engaged and had a lot of fun participating in each of the activities."