Every Child Matters — Support Orange Shirt Day!
Posted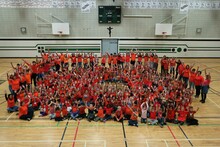 On Monday, September 30, we encourage you to join Canadians across the country as they wear an orange shirt in recognition of residential schools, and in honour of the many Indigenous children who were sent away from their families to attend them.
Orange Shirt Day allows us to raise awareness about the lasting implications of the residential school project, and helps create opportunities for meaningful discussion towards reconciliation. Orange Shirt Day was inspired by the story of Phyllis (Jack) Webstad who, as a six-year-old girl, had her shiny orange shirt —a gift from her beloved grandmother — taken from her on her first day at a residential school. You can watch Phyllis tell her story in the video below.
Each year, a contest is held to choose a student design for the Orange Shirt Program. This year's winner is Farrah Ochiese, a Grade 11 student from Jasper Place High School in Edmonton. Her design is available for purchase on a t-shirt.
We can't wait to see our amazing and compassionate students wearing orange on Orange Shirt Day! Share your photos with us using #EveryChildMatters and tagging @STARCatholic.
You can read more about the origins of Orange Shirt Day on the organization's website.