Medicine Wheel gift part of larger growing partnership between STAR Catholic and NEA
Posted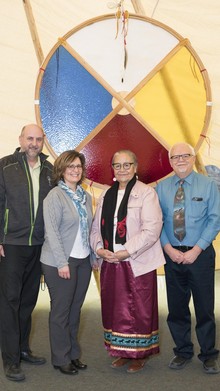 Vince Burke
STAR Catholic
A partnership between two educational authorities continues to strengthen with the exchange of respect, learning, and now gifts of culture.
St. Thomas Aquinas Roman Catholic School Division and Nipisihkopahk Education Authority (NEA) have partnered for a couple years now, through combined professional development sessions for administrators and teachers. The latest example was a Division-wide STAR Catholic Learning Day, this past fall, which focused on First Nations, Metis and Inuit culture, understanding and reconciliation.
From that an exchange came about, as NEA gifted three tipis to STAR Catholic to be placed in École Notre Dame School in Leduc, Sacred Heart School in Wetaskiwin and St. Augustine School in Ponoka. In return, St. Augustine School Principal Kevin Prediger handcrafted a four-foot tall Medicine Wheel for NEA.
The wheel, gifted at a special presentation held Jan. 24 at St. Augustine School, is constructed with all natural resources. It has seven layers of teak oiled cedar strips and four stained glass inserts of yellow, red, blue and white, bound with moose and deer hide and four rings of cotton rope. Furs of Arctic Fox and Muskrat are hung from the wheel with a space for an Eagle feather to be added.
"We gift this to you for your efforts in helping us with our awareness and understanding of Cree culture, values and traditional ways," Michelle Lamer, STAR Catholic Board Chair said in the presentation to NEA. "We value your willingness to share, your trust, your patience. We are grateful to have such valuable resources available."
"The Medicine Wheel captures the spirit of our relationship. We are going to look for an appropriate place to display it and people who walk into our organization will notice these items and know there is a relationship between us," said Kevin Wells, NEA Superintendent.
Principal Kevin Prediger said the idea of the Medicine Wheel was given to him, but he is thankful for what he has learned in crafting it.
"I am appreciative of the teachings that have been shared with me and the talents I have been blessed with to craft, without them the wheel would not exist.  All things in His name," added Prediger.
Elder Ida Bull attended the presentation and said the cooperation and gifts celebrating Indigenous culture send a strong signal to students.
"It is visible. I am safe here, it's a good environment for me. Their culture is being showcased; I think that is excellent. The more we work together this way, the more we will build relationships," she said.
Prediger said having the tipi at the school has been a blessing.
"There is just something special about gathering in as a community and listening to the elders' wisdom within the tipi," he added. "The tipi sets the tone for these cultural conversations. It is so nice to have a traditional space that is reverent and respectful for the elders to teach us."
"Tatawaw; it's welcoming," said Bull. "That's what I see here. I walk in and I think this is a place my kid would be comfortable in and I'm sure the students feel that way. I thank the school for doing that work. It is really meaningful, and I'm sure the building of relationships will expand their minds that there are people out there that respect our ways."