STAR Catholic Celebrating Catholic Education Sunday
Posted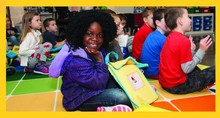 We are People of the Way ...
Every November in Alberta we celebrate Catholic Education Sunday. It is an opportunity for all of us to rejoice and give thanks for the spectacular gift we have in our vibrant and faith-based schools.
Enjoying an outstanding reputation as one of the leading school divisions in the province, we are filled with gratitude for all of our many blessings. STAR Catholic Schools consistently delivers high academic results and high levels of stakeholder satisfaction in safe and caring environments that are permeated by the radiant love of our Risen Lord.
The early Christians were referred to simply as the "People of the Way," with "the Way" being the person of Jesus. These early Christians are our ancestors in the faith, and we carry on their journey today. As a school division we are excited to be embarking on the first year of a three-year faith theme titled: Learn the Way, Love the Way, Live the Way. This theme calls to mind the Christ-centered identity that grounds us as a community of disciples.
On behalf of the entire school division, it is my pleasure, as Superintendent of STAR Catholic Schools, to wish everyone a very happy and holy Catholic Education Sunday. May God continue to abundantly bless us all!
Dr. Troy Davies
Superintendent
Our Vision: Souls seeking Christ on a journey of faith, learning and love
Our Mission: Rejoicing in the way of Christ, we nurture a love of learning in faith-filled Catholic schools!
Divisional Profile
+ 4,095 students for the 2017-2018 school year, a 3.46% increase from '16-'17.
+ 12 schools with recent additions of Father Leduc Catholic School in Leduc & École Mother d'Youville School in Beaumont.
+ More than 420 teachers and support staff in schools in Beaumont, Drayton Valley, Lacombe, Leduc, Ponoka, and Wetaskiwin.
+ Board Priorities: Catholic Identity, Student Learning & Well-Being, Staff Efficacy.
Catholic Education Sunday Downloads
Catholic Education Sunday 2017
Catholic Education Sunday 2017 Letter from Bishops