STAR Catholic Superintendent Resigns to Accept CEO Role with Catholic Social Services
Posted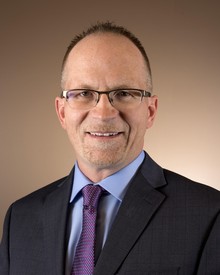 Leduc — The Board of Trustees of St. Thomas Aquinas Roman Catholic School Division (STAR Catholic) has received the resignation of Superintendent, Dr. Troy Davies, effective April 2, 2018. Davies has accepted a new role as the Chief Executive Officer of Catholic Social Services. He will take over as head of the organization immediately following the Easter holiday.
With over 1800 employees, and several hundred volunteers, Edmonton-based Catholic Social Services cares for and supports individuals in need throughout the Archdiocese of Edmonton and central Alberta. As one of Canada's largest multi-function social service agencies, it operates over 65 programs, including assistance for people with disabilities, domestic abuse shelters, foster care, immigration and refugee settlement supports, addiction recovery programs, and various other social services.
"I am very excited by the new career challenge that lays ahead. I look forward to transferring my skills to another professional sector and having the opportunity of serving some of our region's most vulnerable and marginalized people, while striving to be an agent of hope," said Davies. "At the same time, I am sorry to be saying good-bye to STAR Catholic, an organization I have grown to love deeply. I am very proud of the remarkable team of people that work in our schools and division office. Together, we have accomplished so much in the service of students. The school division is in great shape and its future looks brighter than ever."
"We definitely feel a sense of loss with Troy leaving STAR Catholic. Troy has been an outstanding leader with inspiring vision. His passion for Catholic education and his skill and ability in creating strong faith-based learning environments and cultures is exceptional," said Michelle Lamer, Board Chair.  "I sincerely admire all that he has done to move our school division forward and am very pleased to know that his commitment to serving people will continue on in a new capacity here in Alberta.  Catholic Social Services is gaining a very dedicated and faithful servant leader."
Originally from Saskatchewan, Davies holds a Ph.D. in Educational Leadership and Administration from the University of Alberta. After serving as a principal with Christ the Redeemer and Edmonton Catholic school divisions, he joined STAR Catholic in January 2010 as Assistant Superintendent, and was later promoted to Superintendent in September 2013. He is a Past President of the Council of Catholic School Superintendents of Alberta and also holds designation as a Certified Human Resources Professional. Upon graduating from Montreal's McGill University more than 20 years ago, Davies moved to inner-city Baltimore, Maryland to begin his teaching career. He has spent the ensuing decades working in several Catholic school systems as either a teacher, principal or school system senior executive. He has also worked as a sessional lecturer at the U of A and he is a member of St. John the Evangelist Catholic Parish in west Edmonton.
Based in central Alberta, Saint Thomas Aquinas Roman (STAR) Catholic School Division represents 12 schools that serve the communities of Beaumont, Drayton Valley, Lacombe, Leduc, Ponoka, and Wetaskiwin. The STAR Catholic Schools team of teachers and support staff are committed to giving more than 4000 students across our division every opportunity to achieve their potential in a caring, safe and Christ-centred environment.
- 30 -
For more information, contact:
Vince Burke
Manager of Communications
STAR Catholic Schools   
(780) 986-2500
vince.burke@starcatholic.ab.ca