STAR Catholic Thanks Frontline Workers!
Posted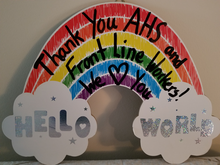 We are full of gratitude and love for all the frontline workers who risk their own wellbeing to help save lives, provide services, keep us safe, and make sure Albertans are fed and supplied with basic needs.
At a time when we are so far apart and yet need to pull together, the STAR Catholic family is sharing rainbows of hope to thank our frontline workers for their work and bravery.
Rainbows of Hope for Frontline Workers!