Notre Dame wins TRACK STAR CHALLENGE!
Posted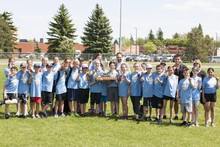 Grade 5 & 6 students from across STAR Catholic Schools competed in the third annual TRACK STAR CHALLENGE, June 6, 2017 in Leduc. 
Students from Father Lacombe Catholic School (Lacombe), St. Augustine School (Ponoka), Sacred Heart School (Wetaskiwin), St. Anthony School (Drayton Valley), Father Leduc Catholic School (Leduc), St. Benedict School (Leduc), Notre Dame School (Leduc), and Académie Saint-André Academy (Beaumont) were all involved in the event. 
Congratulations to Notre Dame on the overall win and capturing the TRACK STAR CHALLENGE CUP, and to all the students, staff and volunteers for another successful event. 
STAR Track Day 2017