Knowledge Matters with Mental Health
Posted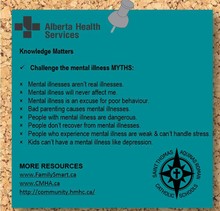 As Alberta Health Services focuses on Mental Health this month, STAR Catholic would like to share the second in this month's series. Join STAR Catholic tomorrow in recognizing World Mental Health Day.
Knowledge Matters
Challenge the mental illness MYTHS:
x Mental illnesses aren't real illnesses
x Mental illness will never affect me.
x Mental illness is an excuse for poor behaviour.
x Bad parenting causes mental illness.
x People with mental illness are dangerous.
x People don't recover from mental illnesses.
x People who experience mental illness are week & can't handle stress.
x Kids can't have a mental illness like depression.
More Resources