Happy International Youth Day!
Posted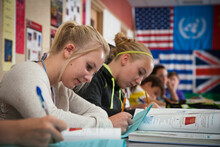 According to the United Nations, there are about 1.8 billion young people between the ages of 10 and 24 currently living in the world — the largest youth population ever recorded. Unfortunately, factors such as political instability, civil unrest, labour market conditions, and limited platforms for political participation or expression have led to the isolation of youth in many societies. For instance, 1 in 10 of the world's children live in conflict zones, and 24 million of them do not attend school.
The UN's International Youth Day has taken place every August 12th since 2000. The goals are to raise awareness about cultural, legal, and societal issues facing youth worldwide, and to celebrate young people as essential to making positive change. This year's theme is "Transforming Education".
Education is essential to positive youth development. It also plays a role in preventing conflict, and greatly benefits economies and society as a whole. Worldwide, youth are often the largest champions of inclusive and accessible education. Youth are leading change through efforts such as lobbying and political activism, creation of training resources and tools, partnerships with educational institutions, and more.
Take the time today to thank God for the blessing of inclusive, publicly-funded education that we enjoy in Canada, and pray for the incredible youth of the world as they work towards the admirable goal of ensuring accessible education for all!
Head to the United Nations website to learn more about International Youth Day.