Get involved, stay involved!
Posted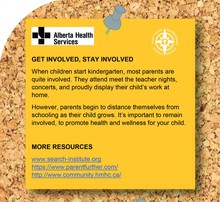 Over the month of September, Alberta Health Services and St. Thomas Aquinas Roman Catholic School Division will be offering ways to stay engaged with your schools and your child's education this school year, and beyond!
When children start kindergarten, most parents are quite involved. They attend meet the teacher nights, concerts, and proudly display their child's work at home.
However, parents begin to distance themselves from schooling as their child grows. It's important to remain involved, to promote health and wellness for your child!
Our next post will talk about the health benefits on staying engaged and connected with your child's education.
More Resources
https://www.parentfurther.com/