Faith Resources During the COVID-19 Pandemic
Posted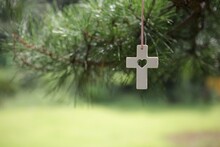 In these times of uncertainty and anxiety, it's important to take the time to pause, breathe, and find comfort in our faith. Below is a collection of faith resources you may find helpful.
Religious leaders from across Canada have released a message of hope to Canadians in response to the COVID-19 pandemic.
Because attending mass in person is not possible at this time, consider attending remotely! Some options are:
Tune in to daily mass on Salt+Light TV or Vision TV, or online at dailytvmass.com/daily-tv-mass
The Archdiocese will be live-streaming Sunday mass from St. Joseph's Basilica at 10:30am   
Bishop Barron and his Word on Fire ministry are also live-streaming daily and Sunday Mass at www.wordonfire.org/daily-mass
Be sure to take the time for daily prayer and reflection. Here are a few suggestions:
Finally, find solace in the word of God by following the daily liturgical readings. You can find them at the following sources:
Pray together, take care, and stay safe!